Episode #43 Part II – Coen Brothers continued
Episode #43 – Part II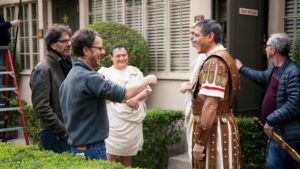 <figcaption class="wp-caption-text">Photo from The Telegraph</figcaption></figure>
Here's Part II of our discussion of the Coen Brothers. We had some lost audio in the first part, and this is that audio.
In Part I, we do pickups, talk about Hail Caesar for almost an hour, and get into about 17 minutes of a discussion of the Coen Brothers in general.
In Part II, we continue the discussion. If you missed the beginning of the discussion, go back and listen to Part I. (If you don't care about or don't want to listen to a discussion of Hail Caesar, skip ahead to 51 minutes.)
We also talk a lot about Woody Allen, and Erik tries to compare the Coens to Jean-Luc Godard as a contrast to Francois Truffaut.
Near the end, we also discuss teaching the Coen Brothers.
Fresh Air with Coen Bros – Nick was pissed off about this interview because he feels the Coens unfairly maligned the original True Grit. What do you think?
Hear our full discussion of Woody Allen from 2013.
Podcast: Play in new window | Download (Duration: 40:48 — 18.8MB) | Embed
Written on May 16, 2016